River Rafting Leavenworth
RIVER RAFTING AND KAYAKING IN WASHINGTON ON THE WENATCHEE RIVER IN LEAVENWORTH
WHITE WATER RIVER RAFTING OR FAMILY FLOATS
The Wenatchee River Valley offers diverse scenery and excellent Class III whitewater rafting. Begin your trip in an alpine setting of Ponderosa Pine and Douglas Fir near the Bavarian Village of Leavenworth. Marvel at how the valley becomes increasingly arid and is near desert as it reaches the Columbia River in Wenatchee. We run almost 20 miles of river that is characterized by what we call pool and drop water: great rapids like Boulder Bend, Rock n' Roll, and Drunkards Drop which mellow into easy stretches of gentle water.
There are White Water Rafting and Leisurely summer river floats available.
Read the Story of "Three Rafting Ladies"
Check Latest River Conditions
Osprey Rafting Company
Located in Leavenworth at the corner of Highway 2 and Icicle Road right across Icicle Road from the Icicle Village Resort. After a day on the Wenatchee River enjoy a great build-a-burger bar at Huck's Landing and sit by the fire roasting marshmallows. Offering High Adventure Class IV to Family Floats, River Tubing, Kayaking and Scenic Floats. Specializing in Wenatchee River Rafting. See video below.
Phone: 800.743.6269 or 509.548-6800 Osprey Rafting
Blue Sky Outfitters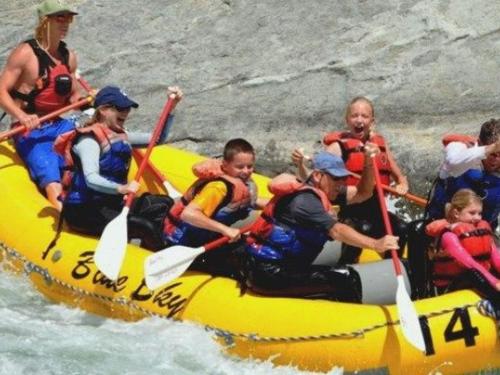 Located at 900 Front Street, Ste. B, next to the Cold Stone Creamery. Blue Sky Outfitters offers trips daily, with all-inclusive Whitewater Rafting and Whitewater & Wine Adventures on the exciting Wenatchee River. The whole family will love our full day trips that are packed with Whitewater Fun and include our Blue Sky Top Sirloin BBQ with all the fixings. Blue Sky also offers Wine Tours and Snowshoeing & Wine packages. Phone (800) 228-7238 or (509) 548-1455. Leavenworth's premier outfitter since 1982. Blue Sky Outfitters.
Blue Sky Outfitters
Orion Expeditions River Rafting
Proving daily unhurried river trips on rivers throughout the Pacific Northwest. Phone: 800.553.7466
Orion River Rafting
River Recreation
Located in Monitor, WA. Providing rafting trips on rivers throughout Washington. Phone: 800.464.5899.
River Recreation
River Riders
Located in Leavenworth area. Phone 800.448.7238
River Riders
KAYAKING THE ICICLE CREEK IN LEAVENWORTH
The Icicle Canyon attracts white water kayakers from all over Washington and other states. The experienced boater can embrace the challenges of maneuvering through the hazardous obstacles on Icicle Creek.
Leavenworth Mountain Sports Kayak Lessons and Rentals
Located in Leavenworth at 220 Highway 2, Leavenworth, Leavenworth Mountain Sports offers beginning to advanced kayak clinics including roll classes at the Leavenworth swimming pool for any age.
Instructors use ACA approved methods and techniques. These courses are designed to build a strong foundation for any level of kayaking. Their retail store meets all your river and flat-water needs. Read Recreation for all Seasons by owner.
Phone: 509.548.7864 Leavenworth Mountain Sports
Check Latest River Conditions
Kayak and Raft Rentals and Dory Floats at Osprey
Osprey Rafting
across the street from the Icicle Village Resort offers inflatable kayaks and rafts for rent. Spend the day rafting or kayaking a river. For wildlife you might see osprey, beavers, deer, and much more. Check out some great rafting footage at
www.zpop.tv/goneraftin
MOUNTAIN BIKE AND RAFTING ADVENTURES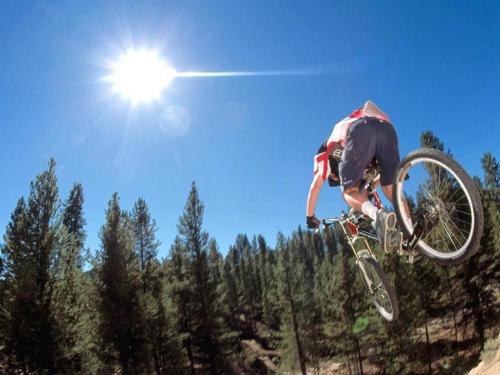 Have you been wanting to check out the local Leavenworth adventure scene? This summer Bicycle Adventures has teamed up with Icicle Village Resort and Osprey Rafting with all-inclusive guided adventure tour designed to thrill you! Check out this 4 day package of riding and rafting at
bicycleadventures.com
.