Festivals and Celebrations in Leavenworth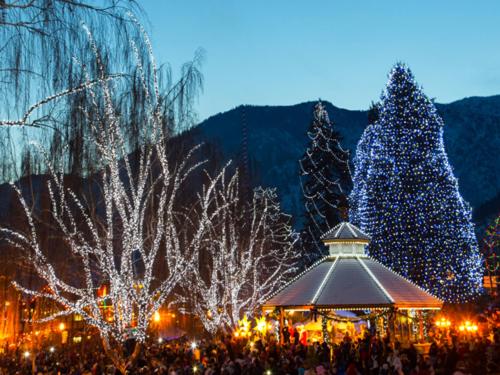 Village of Lights — December & January
The Bavarian Village is decked out with thousands of twinkling lights throughout the holidays. Each weekend in December features a festival celebrating the Christmas season. See why Fodor's Travel Guide rated Leavenworth among the top 10 undiscovered winter destinations worldwide!

Ice Festival — January
Ice Fest is a day for playing outside in the snow! Events include the "Great Smooshing Race," a Colored Ice Cube Hunt, and the Northwest Regional Dog Sled Pulling Championships. Enjoy dog sled rides, sleigh rides, and skiing at Leavenworth's own ski hill. The festival concludes with spectacular aerial fireworks over the snow!

Culinary Month — April
Launching yearly with the Taste of Spring and followed by the month long Spring Sensations, come and explore Leavenworth's culinary side with special menus and dining events throughout April.
Leavenworth International Film Festival — April
The International Film Festival takes place at the Leavenworth Festhalle in April with amazing films of athletics and much more. Filmmakers compete for cash prizes in categories like Natures, Outdoor Sports, Youth Film Maker, Nothwest Outdoors, P.O.V. Submission deadlines are in March.

International Choral Festival — Every Other April
Leavenworth Choral Festival – The Choral Festival concert features five premier northwest choruses performing individually and as a massed choir of over 200 voices under the direction of Dr. Paul Schultz.
Spring Bird Festival — May
Experience a weekend celebrating birdsong and exploring the natural world through birding, geology, wildflowers and conservation. Art exhibits showcase local talents and a songbird concert at Canyon Wren Recital Hall caps off a weekend to delight the senses. The Leavenworth area features spectacular habitats, ranging from snow-capped mountains to sunny pine forests, attracting a wide variety of birds. Guided trips and activities range from leisurely strolls to active hikes and most events are free.
Bavarian Maifest (Mayfest) — May
Maifest will take you back in time. It encompasses history complete with 16th century costumes, games, dancing, jousting, eating, drinking and general revelry in the olde world Bavarian sense! There is the traditional Maipole dance that takes place around the village Maipole! Stay in town Sunday for Shopping, strolling through the village of flowers, Art in the Park, and enjoy traditional "oompa" music! Also see the Craft Bazaar in town.

Art in the Park — Summer
Art in the Park is a celebration of renowned professional and amateur artisans that is on display in the village park Thursdays through Sundays beginning with Maifest and continuing through summer and fall. It is a fantastic opportunity to find unique gifts and art!

Riverfest — May
A weekend that celebrates playing on the river! Come and enjoy interpretive tours on the ecology of the Wenatchee River, test your mettle with some White Water Rafting and Kayaking, or put together a team for the down river races!
Bavarian Bike & Brews Festival — June
Come and celebrate the outdoors and adventure of the Cascades with an IMBA sanctioned cross-country mountain bike race followed with a celebration including many microbrewers. The next day follow up with the Leavenworth Road Race, sanctioned by the USA Cycling Federation. See more information under Mountain Biking.

International Accordion Celebration — June
What better setting could there be than Washington's Bavarian Village for a celebration of accordion music including jazz, popular, classical, ethnic, and more! There are workshops, jam sessions, a parade, and four nights of concerts.

Music Festival — July
On July weekends enjoy the Icicle Creek Chamber Music Festival. The concerts feature a variety of music and Leavenworth's professional resident ensemble Icicle Creek Piano Trio.

Kinderfest and Independence Day Festival — July
Kinderfest is a celebration for children on July 4 with hands-on exhibits, puppets, hayrides and more! The following weekend enjoy Sun-Shopping -Sauerkraut – Sausage – Leavenworth! What better place to enjoy a Sausage Festival! Live Entertainment, a craft fair, music, dancing, beer and sausage. Put a little oompah in your life!

Acoustic Music Festival — August
Enjoy great music at the bandstand by the river in Waterfront Park in Leavenworth, Washington. Put on by the Leavenworth Community Coffeehouse.

Bavarian Quilt Show — September
Heirloom quilts, new quilts and wearable clothing. Quilts are exhibited throughout the village with self-guided tours.